Shri Vijay Mahantesh Vidya Vardhak Sangha, one of the premier educational institutions of North Karnataka, was established in 1963 with the sole objective of bringing higher education to the door- steps of the poor parents who could not afford to educate their children. Thus came into being Shri Vijay Mahantesh Arts, Science and Commerce College, Ilkal as the first child and flagship of the Society. The sprawling campus of the society is spread over an area of 36 acres in the heart of city. For the last around five decades, the society has made outstanding progress by establishing the following Educational Institutions from KG to PG which have been imparting quality education and training to the students.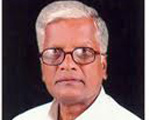 For the past 50 years, S.V.M. Arts. Science and Commerce College has continued to advance and evolve to reflect the changing times and to better serve its students. The institution is constantly updating and restructuring its academic programs, implementing new initiatives, renovating its facilities to be conducive to students' education and bringing in faculty and administration who are dedicated to helping students achieve their goals.We at S V M V V SANGHA are committed to develop our students as skilled professionals, good human beings and responsible citizens. Apart from routine academic exercises, we provide our students every opportunity to grow in the field of their liking. Extracurricular activities such as sports, cultural and social play crucial role in overall development of personality.
Our Objectives
1. To help students develop inquisitive minds and skills, giving them the ability to question and to argue rationally and to apply themselves to variety of tasks.
2. To teach students about human aspiration and achievements in the area of Arts, Commerce, philosophy and an unending search for a more just social order. To provide a general Mathematical, scientific and technical knowledge to enable students to the essential skills needed in the fast – changing world.
4. To help student understand how a nation earns and maintains standards of living and to appreciate the essential role of industry and commerce in this process. To help students understand the world in which we live.
6. To help students use language effectively and imbibe better communication skills.
7. To encourage students enhance their constructive and creative ability in the academic and non academic areas of achievements.
8. To instill in students the respect for moral values to the self and other people and tolerance to the other religions and different ways of life.