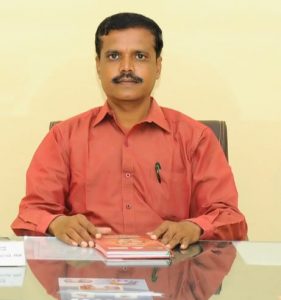 Shri vijaya mahantesh vidyavardhaka sangha was established with the blessings of  his holiness poojya  shri vijaya mahantesh swamiji  and the sharans who believed in the wellness of all the souls our educational institution proudly provides good quality education, religious harmony for the betterment of entire  human civilization we are proud to say that our educational institution is one of the educational institutes of  North Karnataka which has made revolution by providing knowledge food and  shelter .
Our SVM Arts and commerce women's college has been prioritizing quality education since its inception.
The institution works with the mission-students are the bright future of our nation. We inculcate education culture, values among our students. We provide need based environment and fulfill the thirst of  knowledge to our students.
The need of present education is to inculcate self-reliance and self respect in women, The purpose of our educational institution is to build confidence, Competitive  aptitude among our students along with education. We are honestly engaged in this direction..
Our institution provides students centered education with  well furnished infrastructure with spacious classrooms' L.C.D. and basic amenities apart from this, We have well experienced faculty pleasant learning environment. individual care for the students and rich library.
our institution has given importance to both curricular and co-curricular aspects to make learning an active-experience. We are happy  to share that our institution is committed to provide present day require mints like Computer  education  N.S.S. competitive exams coaching  and invited talks from eminent scholars  prom across the country for the overall development of students
We are duly grateful to chairman, Vice chairman. General secretary parents, and students for their trust  co-operation, encouragement and support since inception of the institution which is founded as the result of the far –reaching  vision of his holiness We expect same anticipation  forever  in the future. And We honestly try to retain your faith.
As coming of sharans is our life source We make an appeal to strengthen our hands for educational upheaval.
With gratefulness
Prof. B.B. Suggamad
 Principal
SVM Arts and Commerce  College Women's, ILKAL
Goals and Objectives of the College
As the perfume is true of flower the full grown personality is a learner we are eager and endeavor to develop all round personality of the learners. Forman has to develop himself aesthetically intellectually morally physically and socially especially keeping in mind the vision of our college we determined to get set some goals and objectives to act accordingly.
Developing an all round personality of the learners through circular and Co curricular activities.
As we educate the students for social service and citizenship we develop an awareness and understanding of the various social economic and political problems.
Empowering the students to face the challenges of all kinds through knowledge and skills.
Training the students in vocational courses like and providing the knowledge of self employment programs with the help of other organizations.
Development of individuality of the students by strengthening their self expression and self realization.
Building the character of the learners by Inculcating human values through the study of literatures helping the victims of natural calamities and such like social activities.
Offering remedial courses to the slow learners and special coaching classes to the gifted students.
Developing scientific temper and creativity among the students to overcome their weaknesses limitations ignorance and superstitions.
Ensuring a high quality in higher education adopting qualitative enhancement strategies.
Exposing the learners to the various kinds of industries and organizations.